AVAILABLE
ON

Amazon App Store
QR Droid Features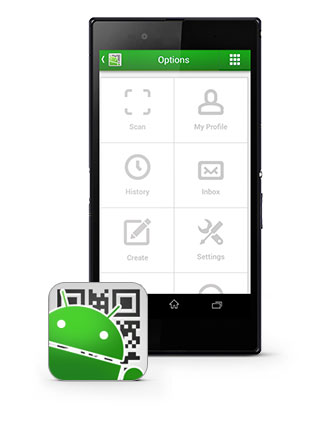 QR Droid is a complete QR Code scanner, QR decoder, QR Code generator and
shopping assistant for your Android smartphone.

It's the most full-featured QR processor available. If you're not familiar with QR
Codes yet, please read this to get more information.
Google Play Store

  QR Scanner
QR Droid allows you to read QR Codes using your smartphone's camera. Just select the 'Scan' tab and point it to a QR Code. You can scan in both landscape and portrait modes, and can even scan mirrored images! (Images appear mirrored in some devices when the front camera is used) Read more information here.
If you frequently use the QR scan feature, you can access it immediately by creating a shortcut or widget, as described here.
  QR Decoder
If you have a QR Code saved in your device as an image, or if you just have the URL address of a QR Code, QR Droid can decode it too!
Click here to read more about the QR decoder.
  Shop with QR Codes
Shop smarter when you shop with QR Codes. Scan a retail product's barcode and search it with Amazon or Google Product Search. Read a review, compare prices and then buy it with a zap of your phone!
  Cost
QR Droid is completely free to download, and is also ad-free.
So…if you like our app, and appreciate the fact that it is free to download and ad-free, we would appreciate it, if you could rate us and give a short review in the Google Play Store.
  Include in your App
Android developers can also use QR Droid's technology by implementing 'QR Droid Services' for scanning and creating QR Codes in your own apps.
Android developers can find useful information on how to integrate this here.
  Create Custom Codes
You can use QR Droid to create your very own QR Codes, straight from your device. Contacts, bookmarks and calendar events are turned into QR Codes in an instant. Get into the thick of things by creating codes using geo-locations, apps and even SMS messages. There are lots more options so start exploring now!
After you create a QR Code, QR Droid allows you to customize your code by sizing it, coloring it and even embedding an image such as your company's logo!
Widgets: 
QR Droid allows you to place widgets (e.g. clocks, history, my QR Code business card, action toolbar) on your home screen, so you can access your most frequently used functions with a single tap, without even entering the application. Best-selling widgets are available in QR Droid as well as in the new QR Droid Widgets app. Learn more here.
Shortcuts: QR Droid allows you to create shortcuts in your Home screen, so you can access your most frequently used features with a single tap. Learn more here.
History: QR Droid keeps a history of every code you've scanned, decoded or generated. You can browse and search that history, generate a QR Code from it, or open and view its result.
Export: You can also export or save your QR Code history as a CSV file.
Integration: QR Droid integrates with your browser, photo gallery, most third party file explorers, your contacts app, Google maps and more, to decode and generate QR Codes instantly.
Sharing: QR Droid lets you share your contact information optically, with one zap of your phone (literally)!  Read how to do it here.
Social Sharing: QR Droid lets you share your QR Codes via email, Facebook, Twitter and many more.